STA Mobile Offices are currently in hiatus due to the ongoing Covid lockdowns. We look forward to catching up with in person again soon. 
STA run regular Mobile Offices in each of our six contributing council areas between February and November. Drop in for a chat or book an appointment. 
If you are a maker, cultural organisation or community minded business with an interest in arts and culture we want to get to know you better. We can also meet via ZOOM for the ultimate in digital convenience. 
Queanbeyan Palerang (the non-contributing council in our region) residents are encouraged to stay in touch as you can still pay a fee to benefit from some of our services. Contact QPRC for more information about their non-membership status in the Regional Arts NSW network.
Book an appointment at your preferred location.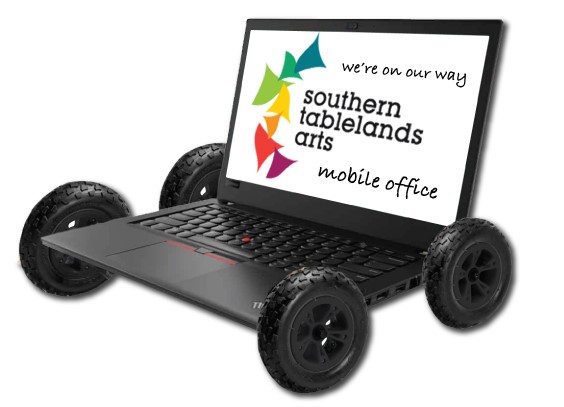 Yass Valley
Yass Valley Information Centre
10.30am-3pm
2nd Tuesday of the month (Feb – Nov, excl. PH) CURRENTLY IN HAITUS DUE TO COVID RESTRICTIONS 
259 Comur St, Yass
Southern Tablelands Arts offers a range of services for artists and cultural organisations. We work closely with our six contributing councils to foster artistic innovation, excellence and promote arts and cultural activity across the Southern Tablelands and Highlands of regional NSW. 
Southern Tablelands Arts works with our members, makers & creative communities. Energising and supporting the living culture of our region through a program of activities and events. We support, create, educate and advocate for the arts in the region.
STA conducts a range of activities and provides in-depth and professional expertise to our six contributing councils and their communities.  Read more about what we do in your community.
Our Services page lists the core suite of services we provide to the public.