Southern Tablelands Arts offers a range of services for  artists and cultural organisations. We work closely with our six contributing councils to foster artistic innovation, excellence and promote arts and cultural activity across the Southern Tablelands.
Mobile Office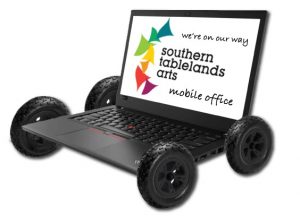 The Mobile Offices program connects us to our communities so we are regularly available to meet and engage. Drop in for a chat or book an appointment. If you are a maker, cultural organisation or community minded business with an interest in arts and culture we want to get to know you better. We can also meet via ZOOM for the ultimate in digital convenience. 
STA are also regularly in Yass Valley and Wollondilly. If you live in these locations and would like to meet up with staff, contact us for dates. Queanbeyan Palerang (the non-contributing council in our region) residents are encouraged to stay in touch as you can still pay a fee to benefit from some of our services. 
Please email us to book an appointment.