A great option for young people looking to discover poetry and performance during September School Holidays.
Join Robyn Sykes for free writing workshops with other like minded people your age.
Work on your writing and performance techniques.  Develop your writing style, explore poetry. 
Sessions with Robyn are Online Via Zoom are open to anyone in the Southern Tablelands Arts or Eastern Riverina Region.
BOOK NOW  Places limited. 
Wednesday 22 & 29 September 
6pm – 7pm
Via Zoom
Find out more about the entire V2A project
Check out our Anytime Activity at STA Kids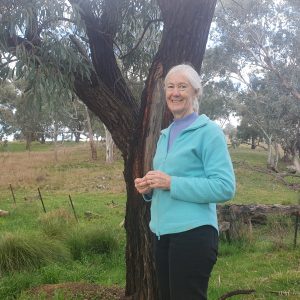 Robyn Sykes is a multi-awarded poet, speaker and entertainer who writes and performs Australian poetry. Robyn's work draws on her fascination with nature, human behaviour and the idiosyncratic. Her poems are published in journals and anthologies nationally, internationally 
The talented performer loves to entertain at festivals, community events, conferences, schools and more. Audiences around Australia have applauded her energetic renditions, including national and regional festivals.
Her workshops include sessions to hone skills in poetry/prose/performance for both adults and children, how cryptic crosswords help your writing, and drama for children. Robyn also mentors emerging performers and public speakers, judges bush poetry competitions (and coordinates poetry events, including Binalong's bimonthly A Brush with Poetry.
The livewire presenter has incubated crocodile eggs, lived in Japan, edited a regional town newspaper and focussed an electron microscope. She lives surrounded by her inspiration on a farm in south-west NSW, where she loves to recite poetry to the kookaburras.