Create some poetry with Wynn Beard
Join Wynn Beard as she shows you how to create found poetry using old books and paint colours. 
We recommend you watch the video and then go on the hunt for your materials and get inspired to write your own poems.
Materials
An old book, newspaper, magazine or anything with text that you can black out. (make sure its something no one wants or is using!!)

Paint chips from the hardware store, or find some on the internet. 
Tools
A black Sharpie, texta or crayon. 

A pen and notepaper to record the poems you want to keep. 
Other Ideas for Poetry
Create Paper Bag Poetry by placing some items in a bag. without looking describe what you feel when you touch the items. 
Haiku poems with their standard 5-7-5 syllable structure are fun to write. Sometimes they are harder than you think!
Create a found poem by cutting out words and phrases you like and then arrange them into a brand-new poetic masterpiece!
Create a Dada poem by cutting out words from a newspaper and selecting them randomly from a bag. Record them exactly as you retrieve them.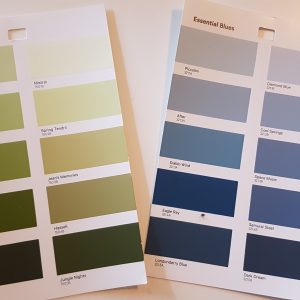 Giselle tried a paint chip poem using the names of the colours as inspiration. 
Yellow Greens
Rainforest fern
Jean's memories,
Weave like
Spring tendrils
through distant Jungle nights.
Essential Blues
Diablo Wind
cuts like Samurai steel.
Clamouring space music
in the cool springs of
our dark dreams.