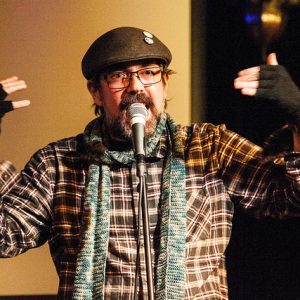 Performance Poets get a boost with opportunities for you to get involved.
Nationally established performance poet Andrew Galen will mentor Jackie Okot and Wynn Beard to each run youth poetry workshops for young people across the Southern Tablelands and Eastern Riverina regions.
Virtual 2 Actual Performance Poetry is possible through a partnership between Southern Tablelands Art, Eastern Riverina Arts, Jugiong Writers Festival and Southern Highlands Writers Festival.
The project connects performance poets and young people through online workshops and performance opportunities.
Andrew Galan who enjoys a national profile for his performance poetry and writing. Andrew will mentor the two emerging poets and create new work for each of the writer's festivals. Andrew has been at the forefront of establishing spoken word as an art form and has been described as a voice of the surreal and satirical. As the lead poet in the V2A project Andrew will perform at both the Southern Highlands Writers Festival and the Jugiong Writers festivals 
Emerging Poets Jacki Okot from Wagga Wagga and Wynn Beard from Bundanoon with support from Andrew will each lead a poetry group for young people. The youth poetry group will meet regularly online, creating connections and creative outlets during this incredibly difficult time. Jacki will join Andrew for performance at the Jugiong Writers Festival and Wynn will also perform at the Southern Highlands Writers Festival.
The V2A Performance Poetry project is one of 11 projects state-wide funded through the Regenerate Regional Event Initiative through Create NSW.
Image: Andrew Galan, nationally recognised performance poet in action and leader of the Virtual to Actual Performance Poetry project. Photo Adam Thomas. Images Below: Jackie, Andrew and Wynn