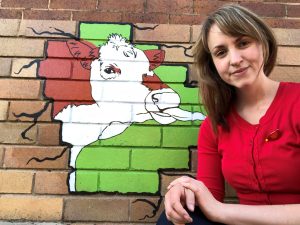 What a Cowtastrophe! by Sally O'Neill is the new mural bringing life and colour to 99 Goulburn Street Crookwell.
Check out the Artist in action making the work on Instagram TV.
The mural design adds a sense of playfulness to the Goulburn Street amenities space and enhances the extensive brickwork of the location by creating an optical illusion of 3D space that pierces the walls to reveal animals literally bursting onto the main street.
Sally has thoughtfully included varieties of cow familiar to the local community and keen eyed viewers might even spot a sheep or two, animals vitally important to the local economy and peoples' daily lives.
Name that new Crookwell Character
The cows, sheep, horse and chickens from the What a Cowtastrophe! mural are so full of personality, we need your help to give them all names. It's simple to be part of the fun. Just use hashtag #whatacowtastrophe when you name your new Crookwell friend in any social post and we will pick them up and announce the community's favourite names in the new year. The top name currently for the sheep is Petunia 🙂  Check out each of the characters at our facebook album.
Selected What a Cowtastrophe characters are available on a range of T-shirts and other items at the STA Give-A-Little-Get-A-Little Merch Store. 
Check out more of Sally's work at her website or from the STA Creative Directory