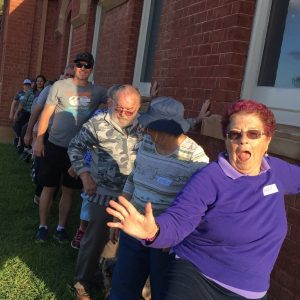 STA got creative with fitness! We asked the question, can arts practices help with fitness, and get us moving, connecting and progressing with our fitness journeys? Studies have shown that engaging in arts activities can have tremendous advantages for health and well-being.  Participation has shown increases in memory, mobility, reduced social isolation and more.  Through dancing or writing or making art you can boost physical, social and mental well-being.
Southern Tablelands Arts tested this with our Creative Fitness Program which ran through March and April 2018. Using creative processes including writing, dance, ceramics and painting participantshad an immersive outdoor experience with short periods of light exercise at the beautiful Goulburn Waterworks.
During the program a personal trainer attended to show participants tricks and tip for fitness at home and join us on short walks.  Participants then respond to the environment through the arts practice with an experienced tutor.  No scales or weigh ins, boot camps or breathlessness for participants just beginning their fitness journeys.  This series of workshops encourage people to step outside, connect with others and begin the process of finding their fitness through mild exercise, companionship and creativity.
"Thank you so much for putting this program together and allowing me the opportunity to step outside myself, my house, my comfort zone and meet some extremely talented and beautiful people."
"After doing the ceramics class with Giselle and Camille, I was warmly welcomed and included. I thoroughly enjoyed all aspects of the workshop and would keenly do it again, (I ended up signing for more classes because of the positive experience)." 
"I participated in the Ceramics workshop and fitness program held in the picturesque Goulburn Steam Museum surrounds. This relaxing aspect contributed greatly to the ambience and social interaction with other people. Thank you to organisers."
A selection of writing from the workshops
Sherbet Eyes by Ceilidh Newbury
Hypnotised by sherbet eyes.
Composition collapses.
You fall, absorbed by him.
Lines on the floor distort and warp.
Bow down.
Scritch his chin.
Sunflower by Kathy Pollitt
I am an overachiever
I want to be the tallest, brightest
I want to be admired
I jostle for position as I grow
My long gnarled toes grip the earth I stand in
holding on for dear life
My long skinny body is coiled strength
holding my massive head on my shoulders
my face is black with the strain of life
I have the mane of a lion
yellow and bright, I mimic the sun.
Hail by Ceilidh Newbury
I am hail. Thrust from the nest of the clouds. I fall. No wings to unfurl, no parachute.
The wind kicks me side to side.
If I could stop, I would.
It hurts to be thrown out. Propelled into a world that will break me.
I smash. I melt. I crunch hit perish. Punched, cursed, twisted, hobbled, amputated.
Pierce bash clobber hurt wound kill die.
Fragile like glass. I am temporary.
Born in the clouds to die on the ground.
I have no choice.
The Grapevine by Maggie Corby
A warm spring sun awakens the bright green buds embedded in my ruddy brown skin. Each tender kiss whispers the promise of a new season –giving me enough incentive to embrace the balmy air.
I stretch my arms to the sky with tendrils twirling, twining and twisting. My fingertips are long and strong, traversing trellis, wire or beam on which to move along.
All the while my sinewy leaves thatch a cool green canopy, in antenatal readiness. In due course, a petticoat of flavor will be born in shades of Muscat, Pinot Noir or Cotton Candy. Their funeral palate will sing with notes of citrus, peach and rose.
Senses by Ceilidh Newbury
The red berries taste tart on my tongue. Not even in my mouth but squeezing out their sour sauce. Compact and packed with bitter biting bursts as I bite down.
Above a magpie's wings. Whooshing past. Whooping, whipping the wind to wail. Whistling, hooting, cooing, like another bird's cry. Rustling the trees and other roosting animals.
Orange leaves on the gum tree pop out. Splashes of colour amongst the green like a sunset breaking through. Reaching with hot fingers through the crowded treetops.
Those leaves would crunch like chips. Dried up snap and crackle. Already dead the colour drained from their cheeks but they hold. Mindlessly clinging to the life they lived in those trees.
The breeze blow eucalyptus up my nose. I've used that essence before to cover worse smells. Burning my nostrils and gagging me. But here it is softer and subtler and I can breathe.