Potato Printing with Bandicute
Potato & vegetable printing with Ellen and Jess from Bandicute 
Ellen and Jess create hand printed garments and works on paper from their studio in Gunning NSW
Join them to create prints using veggies from your kitchen on paper and even fabric.
Tip: watch the video before you gather your materials and tools together to get inspired
Materials 
Potatoes – from your local grocer or even from your own garden. Potatoes can be cut into different shapes and used as stamps in printing.
Other veggies – experiment with any veggies you have at home. What shapes can you make?
Paper – for printing onto
Paint – Any water based paints in your favourite colours.
Tools
Get an adult to cut your veggies into different shapes with a knife
Newspaper or a drop cloth to make sure you don't leave any marks on tables or other furniture
Paper plates – for rolling out your paints
Roller or paint brush 
Markers – to add in details
Cookie cutters in different shapes
Check out the cool Pinterest boards Ellen and Jess have put together  for even more inspiration. Images by Megan Cassidy from Yass Valley. 
This activity and accompanying printing workshop is possible with the support of the Crookwell Potato festival 2021.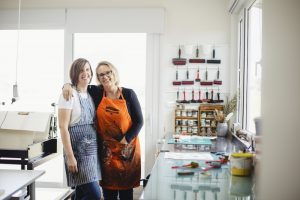 About Ellen and Jess and Bandicute Designs
"We are Ellen and Jess, Mother and daughter, printmakers, designers, seamstresses, artists and entrepreneurs! We love to bring our creativity to life on baby and children's clothing! The clothing you will find in our range is 100% unique to our brand, designed from scratch using our own hands, hearts and ideas. We value ethically made, sustainable, one of a kind, comfortable and above all, made to the highest quality."
If you want to find out more about Bandicute visit bandicute.com.au  and follow them on Instagram