An Exhibition of Contemporary Works by Monica Bridge and Jodie Munday
Explore this special online exhibition by Monica Bridge and Jodie Munday.
Featuring more than 20 Works from each artist the galleries showcase significant bodies of Contemporary Aboriginal works including paintings, drawings, photography, mixed media and wood burning. 
Introduction video by Jennie Gordon. 
Exhibition opens on Friday 28 August.
Explore works by Jodie Munday
Check out works by Monica Bridge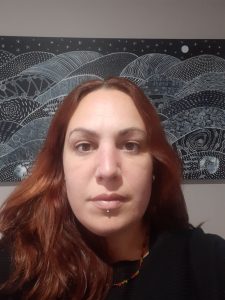 About Monica Bridge
I am a proud Muruwari woman and Contemporary Aboriginal Artist, with a strong connection to my culture and family. I have been a practicing visual artist for many years, working with painting, drawing and sculpture. My collection in this exhibition focuses on painting, 'Country and People'. I have been granted one of the 2021 Veolia Mulwaree Creative Arts Scholarships, which has assisted me financially, to prepare for this exhibition, and I am very grateful to Veolia Mulwaree Trust for this.
I have always had a passion for visual arts. For many years creating art has been a tool I use, for self expression, healing and understanding emotions. I explore with different shapes, lines, and symbols to reflect my connection with country and love for our native animals and insects.
I am passionate about sharing my culture and increasing awareness about Aboriginal culture, history, and perspectives through creative practice. I have conducted many arts and culture workshops in preschools, primary schools, high schools and with community groups, with this focus. I also do commissioned pieces, including large to medium scale murals. Some of my recently completed murals include a large mural at Goulburn North Public School, completed at the end of 2020, and a large artwork completed with Aboriginal students at Crookwell High School in 2019. I am currently working on another large mural at Goulburn South Public School, which will be completed at the end of this year.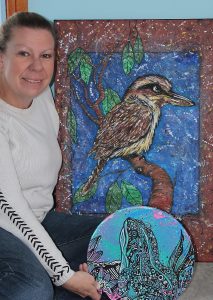 About Jodie Munday
I have been studying art and building my skills for most of my life.
My passion for Visual Arts really took hold during my high school years and since than I have completed various different forms of study and work continuing to build upon my skills and arts practice. I began my own business Cr8ive Art in 2011. My art career was put on hold for some years during this time to begin raising a young family.
Over the past 2 years I have begun to focus on building my arts business back up again and have had work featured at Gallery on Track in Goulburn NSW, entered various local art exhibitions throughout our area, and have also begun working in schools supporting students and staff in various roles including Aboriginal Education.
My chosen areas to work in include drawing using various mediums, photography, printmaking, pottery, wood burning and a new found interest in painting. Many of my works are a combination of the above resulting in mixed media forms once completed.
I love to represent nature in most of my work in various categories of animals, wildlife, flora, and a rural lifestyle, patterns that I find within different environments and using elements of my heritage of Celtic, Aboriginal and British decent. I enjoy using visual arts as a form of expression, communication and learning. I also find art in all forms to be a very therapeutic activity and will be exploring these aspects in further detail during the coming years.
Follow Jodie on Instagram. 

   This exhibition was proudly supported by the Veolia Mulwaree Trust.