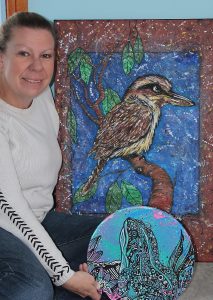 About Jodie Munday
I have been studying art and building my skills for most of my life.
My passion for Visual Arts really took hold during my high school years and since than I have completed various different forms of study and work continuing to build upon my skills and arts practice. I began my own business Cr8ive Art in 2011. My art career was put on hold for some years during this time to begin raising a young family.
Over the past 2 years I have begun to focus on building my arts business back up again and have had work featured at Gallery on Track in Goulburn NSW, entered various local art exhibitions throughout our area, and have also begun working in schools supporting students and staff in various roles including Aboriginal Education.
My chosen areas to work in include drawing using various mediums, photography, printmaking, pottery, wood burning and a new found interest in painting. Many of my works are a combination of the above resulting in mixed media forms once completed.
I love to represent nature in most of my work in various categories of animals, wildlife, flora, and a rural lifestyle, patterns that I find within different environments and using elements of my heritage of Celtic, Aboriginal and British decent. I enjoy using visual arts as a form of expression, communication and learning. I also find art in all forms to be a very therapeutic activity and will be exploring these aspects in further detail during the coming years.
Follow Jodie on Instagram.