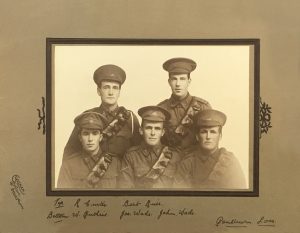 The Great Southern Line Anzac Story
Inspired by an image of five young railway men who enlisted together in Goulburn in WW1 STA commissioned artist Tracy Luff to create 3 public artworks at Picton, Moss Vale and Goulburn Railway Stations.
Artist Tracy Luff and researcher Mary Hutchison uncovered the hidden stories of the men who worked the railways, went to the war and eventually came home to work the on the rails again. The project explored their lives, homes, families and the overall impact of the War.
The commemorative sculptures provided an opportunity to find previously untold stories about railway men who enlisted and fought during WWI.
Through the project our community can honour the experiences of WWI veterans returning from the war and to recognise the powerful link for many who returned to jobs in the NSW railway network in our region.
When you visit each of the works there is an accompanying QR code that takes you to a dedicated website to learn more and access the wealth of material collected over the project.
NSW Trains and Sydney Trains were with us for every part of the journey, contributing to the working party and supporting the budget of the project. The memorial sculptures were deeded to them as custodians for the future.
A key source of funding for the project is the Anzac Centenary Cultural Fund. For the Goulburn Commemorative artworks, funds were also provided by Goulburn Mulwaree Council and the Goulburn Soldiers Club.