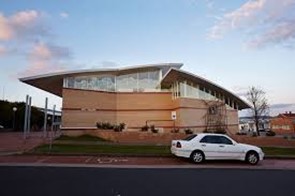 A modern regional gallery with an impressive program that is big, bold and full of ideas. Goulburn Regional Art Gallery works to provoke conversation and connection to the work of the artists they display and those represented in the permanent collection.
Workspace / Studio
The residence at Goulburn Regional Art Gallery will be conducted at Collector with the opportunity to access the displays and collection at the gallery as well as propose a public workshop at the gallery or appropriate venue as negotiated. The workspace and accommodation is combined at a local farm stay.
Accommodation
The Goulburn Regional Art Gallery residence accommodation is onsite at the studio and workspace location in the picturesque rural rural village of Collector, NSW. This is ideally set up as a ceramic studio, but may be used for any other media. There is a kiln on site, but use of the kiln would need to be sought with the artist. This would incur a fee. 
Collector is located in Upper Lachlan Shire and is rich in local history and natural beauty. Read more about Collector.