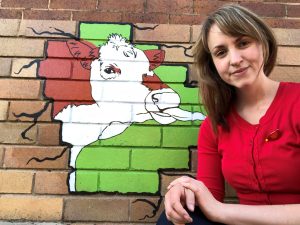 Crookwell mural a Cowtastrophe!  
What a Cowtastrophe! by Sally O'Neill is the new mural bringing life and colour to 99 Goulburn Street Crookwell.
Opening Celebration
Help us welcome the new work with a free badge making activity for the entire community. STA will be onsite at 99 Goulburn Street Crookwell Saturday 5 December 10am-12pm. 
Check out the Artist in action making the work on Instagram TV.
The mural design adds a sense of playfulness to the Goulburn Street amenities space and enhances the extensive brickwork of the location by creating an optical illusion of 3D space that pierces the walls to reveal animals literally bursting onto the main street.
Sally has thoughtfully included varieties of cow familiar to the local community and keen eyed viewers might even spot a sheep or two, animals vitally important to the local economy and peoples' daily lives.
What a Cowtastrophe has become a collection at the STA Give-A-Little-Get-A-Little Merch Store for those cool enough to get one of Sally's cows on their gear. 
Check out more of Sally's work at her website or from the STA Creative Directory
The Streets R Shared project is a partnership between Upper Lachlan Council and STA to revitalise public spaces in Upper Lachlan with funding through the Shared Spaces programme, a NSW Government initiative. The project area on the main street of Crookwell includes the mural, refreshed paintwork, improved seating  and planter boxes.