Indigenous Weaving with Ronnie Jordan
As part of commemorations for Goulburn 2020, Southern Tablelands Arts is pleased to present Indigenous weaving workshops with Ronnie Jordan from Culture on the Move.
Ronnie will be hosting COVID proof workshops live and online on Friday 23 October. The workshops are available to all schools in the Goulburn Mulwaree area.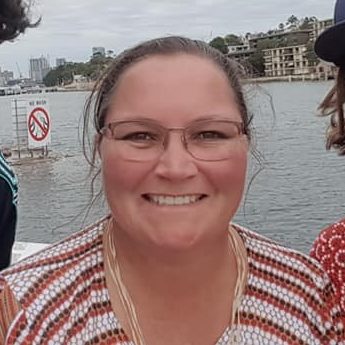 About Ronnie
Hi my name is Veronica (Ronnie) Jordan I'm a Kalkadoon woman from Mt Isa, I have been teaching and working with my culture for a number of years. I am a proficient trainer specialising in traditional Indigenous games, traditional painting techniques, traditional coil basket weaving incl. animal and doll making and I share my expertise on bush tucker plants. I have taught Indigenous culture to a wide range of people from children to the elderly, Indigenous and non-Indigenous. This includes teaching traditional games at various schools across NSW during NAIDOC week and also at an Aboriginal women's conference in 2012. In my role as a cultural ranger I taught other Aboriginal women traditional weaving techniques which assisted them to reclaim this knowledge and reinvigorate our culture.
I am a qualified professional weaver who delivers workshops for schools, community groups, cultural organisations, festivals and to government departments. By teaching the cultural techniques it ensures the skill of weaving continues for generations to come. Workshops provide a hands-on experience empowering participants with a sense of connection, as it was designed to do hundreds of years ago.
Traditional Doll and Animal Making
Recommended for upper primary and secondary groups accompanied by school staff.
Participation in this workshop provides people with an understanding of how Indigenous culture is still very much alive and relevant. By using both traditional and modern materials students gain knowledge and understanding of a long-used practice.
A maximum of 5 class groups per online session to ensure an interactive workshop with lots of time for discussion and questions.
A ZOOM link to the session will be provided on confirmation of booking.  
Friday 23rd October.  Sessions are at 10am and 1pm
Materials (to be obtained by each school)
Hay Bale. (one bale can do multiple classes with plenty left over for more making or the garden). Hay can be purchased at most rural stores for around $10-15 a bale.
Wool in various colours. We recommend second-hand wool from op shops as the best economic and environmental option. Students may even have wool at home they can being in.
Found natural objects. Such as sticks and gum nuts that can be incorporated into the students designs. A class activity to collect these around the school grounds could be a great pre-workshop exercise.
Each school can book up to 3 class groups.
FREE to all schools in the Goulburn Mulwaree area.
For bookings email ao@southerntablelandsarts.com.au
Each online workshop session is offered until fully booked on a first come first served basis.
The weaving program is generously supported by Goulburn 2020 through the Goulburn Mulwaree Council.