Delene White is the 'artist in residence' at Tallagandra Hill winery. She shares a little about her journey with the winery and what's happening in her practise with STA.
I love to use different materials in different ways in different situations.  Form follows function when sourcing new or reclaimed materials and seeing the potential in them, so designing with installation and maintenance in mind means there is always an integrated plan.
In 2018 the owners at Tallagandra Hill Winery purchased two goddess sculptures. They loved them so much they continued inviting me back to create more. Since then, we have collaborated to create several new artworks including a six meter tall feature wall in corten steel, a five meter wide suspended infinity light—and the newest piece finished last week—a giant grape sculpture using reclaimed spool ends that became a part of the 'We love local' festival instigated by the winery team. 
COVID has meant the cancellation or postponement of three exhibitions so I am forever grateful to the art-lovers in our community who have engaged and supported me through this tough and weird period, especially Tallagandra Hill winery.
David Faulks at Tallagandra Hill Winery is a huge fan:
Delene's uniqueness is not just her creativity – it is her adaptability and humility to be able to co-create something beautiful and meaningful with other parties (or in our case, owners of places and spaces) for the benefit of all involved. She is quick to interpret spaces, develop concepts and, importantly, find practical solutions that are expressive and beautiful, but also efficient and cost-effective. Her collaborative approach lends itself to working with a range of stakeholders, while remaining true to the integrity of art and design. This in turn provides incredible value for money and sustainability at properties like ours.
See more of Delene's art at her website.
Goddess sculptures at Tallagandra Hill Winery which provide a highly impactful visual form in a 38 acre property, linked to the owners desire to project beautiful environments, organic growing conditions and authentic storytelling. They are now landmark art forms widely known in the region.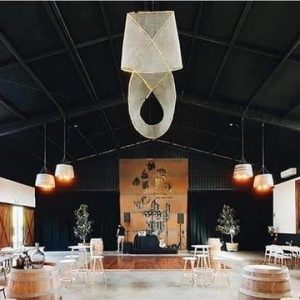 The corten steel feature wall and infinity light sculpture in the event space at Tallagandra Hill Winery provide a unique backdrop to a range of events, resulting in increased visitation to the site, diversified tourism offers and higher sales. Photo Marty K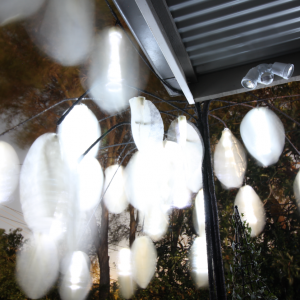 This illumination tree made with solar lights is my 'COVID project under construction' and the basis of the next sculptural piece.